What is your Digital Transformation plan? Our free report reveals where IT leaders will invest to transform their businesses.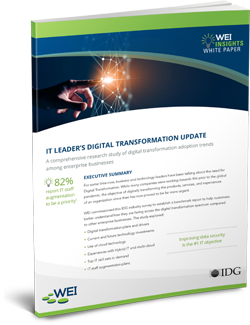 *Eighty-two percent of respondents in a recent survey said IT staff augmentation will be a priority over the next 12-24 months. This comes as no surprise as increasing amounts of IT workloads are expected to be handled externally.
This white paper summarizes a study conducted on behalf of WEI by IDG to explore IT leaders' digital transformation plans and their IT investment objectives over the next 12-24 months. Respondents were asked about:
IT investment allocation
Top IT investment objectives
Top drivers of digital transformation
Technologies that require investments to upgrade or maintain
Areas that require new technology investments over the next two years
Top use cases for cloud technology
Multi-cloud strategy implementation
Skill sets most important to meet IT goals
*IDG Research commissioned by WEI, January 2021.