Does your digital transformation strategy include software defined infrastructure?
40%

of IT Decision Makers listed infrastructure demands as a top driver for digital transformation initiatives.*

Those companies that complete their digital transformation will obtain greater levels of scale, automation and agility for current and future application workloads within the enterprise. In order to digitally transform your organization, you have to 'software define' everything.
[New eBook] The Journey To A Digital Enterprise With Software Defined Infrastructure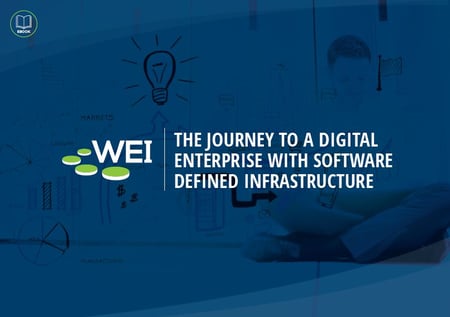 Read this eBook to explore:

The benefits of software-defining your infrastructure

Why hyperconverged infrastructure is a logical next step for digital transformation

IDC's 7 essential steps for IT transformation to guide your journey

By bringing cloud-like power on-premises, hyperconverged infrastructure simplifies data center administration, decreases costs, and increases end-user satisfaction. Once the digital enterprise is enabled, internal IT can focus less on infrastructure and more on innovative, revenue-generating opportunities.
*Source: IDG Research commissioned by WEI, 2019.