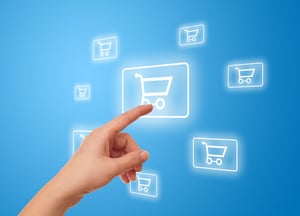 You might call it the retailer's dilemma: Should brands spend their time and money transforming systems and processes for the new digital reality, or should they put the customer-facing enhancements at the forefront of all other business initiatives - including technology deployments?
The answer? Both.
The truth is, technology is the best way to satisfy today's digitally savvy consumers. But focusing on the wrong technologies – those that are not solving customer problems or improving the customer experience – could be a fatal misstep in this fast-moving, highly competitive retail landscape. There is a real sense of urgency as retailers look for innovative solutions that will set them apart. The clock is ticking, and retailers are struggling to make the right IT decisions with so many choices available. Luckily, a customer-first technology strategy is possible with the right expertise and support in place.
Technology has Changed Consumer Behavior
General trends in technology are influencing consumer habits and preferences, giving rise to a new generation of shoppers. What should retailers know and understand about these modern consumers?
They are mobile. Not only are people using their mobile devices to shop online from the comfort of their homes, they are using their mobile devices during the shopping process in stores. According to a new report covered in Retail Dive, "58% of consumers use their phones to browse e-commerce apps or websites1." Meanwhile 85% of 25- to 34-year-olds are engaging with their phones while shopping, and 85% are using their mobile devices to browse the web. The best way for brands to address these numbers and incorporate mobile into their digital strategy is not as clear-cut. Developing a mobile app is a serious investment and every type of e-commerce strategy opens the door for cyber attacks. In fact, security concerns are one of the leading reasons for cart abandonment online.
They are smarter than ever, with access to information that previous generations couldn't imagine. Today's consumers are tech savvy and hyper-connected, which has transformed the buyer's journey over the last decade. Before making a purchasing decision, consumers may read online reviews, compare prices, look for recommendations on social media, and find coupons in a matter of minutes. Google searches, real-time alerts, built-in notifications, and social networking tools have empowered customers, giving them the upper hand in the purchasing process.
They demand the very best. When it comes to everything from advertising to customer service to the in-store visit, consumers expect a seamless, customized experience as they determine where to spend their hard-earned dollars. Since the advent of the Internet, the retail space has become exceedingly noisy and consumers now have an overwhelming number of options before them. So how do brands stand out to not only attract these highly discerning shoppers, but also close the deal? A personal, human experience across all channels is just one way retailers are meeting rising consumer demands. A report from Accenture states, "Companies that leverage operating models, open innovation, and agile technology to deliver personalized digital experiences can rapidly scale new growth initiatives.2
Three Trends Driving Innovation in Retail
Now that we have a better picture of today's digital consumer, let's explore three overarching concepts that are currently driving innovation in the retail industry:
Value – Price has and always will be a differentiator in retail. But before the Internet, finding the best deal was a laborious, time-intensive process. Not anymore. Now customers can quickly research and compare costs from a mobile device – anywhere, anytime. While many details factor into a customer's purchasing decision, retailers must be conscious of the value of the goods and services they offer compared with the competition. This attention to value has led retailers to focus more on the customer experience, since competing on price alone is no longer an option. Innovative technologies are making it possible for retailers to streamline their operations while bringing ease and ingenuity to the buying experience – which is good for the bottom line.
Personalization – In the background of everything we do online is data. Smart retailers and software companies are realizing they can collect, analyze, and use this data to create a truly customized experience. While it's become common to offer a personalized shopping experience online, brands are now using emerging technologies to create similarly unique experiences in stores. And consumers are taking the bait.
Convenience – Most consumers would agree that technological advances in the last decade have made their lives easier. We've seen everything from faster and cheaper delivery options, to an increase in "click and collect" offerings, to subscription and replenishment services for just about every kind of good. In order to deliver the convenience that consumers are demanding, brands must carefully and strategically upgrade not only their systems, but the operational processes that are in place alongside them. Advanced technologies – particularly mobile – are helping brands develop more flexible and enhanced point-of-sale options that consumers crave.
Retail Technology Solutions for a Fast Changing World
Retail's digital transformation is making it possible for brands to meet consumers' changing needs and deliver on the value, personalization, and convenience they have come to expect. To stay ahead of the curve and compete in today's competitive landscape, businesses are looking at how to innovate and stay relevant – and technology is the key. Retail technology generally falls into three categories: marketing technology, end-user technology, and network infrastructure solutions.
Marketing Technology
Proximity marketing and smart beacons, data collection and analytics, and digital signage
Retail marketing technologies like geolocation, smart beacons, and predictive analytics may look and sound futuristic, but they're already making waves across the industry. What they offer store owners and operators is the opportunity to "see" – and then provide – what customers want, before they buy.
One such technology is Bluetooth Low Energy (BLE). To utilize BLE, stores must install a piece of hardware called a smart beacon. This small-range Bluetooth transmitter is designed to broadcast or communicate with Bluetooth-enabled devices, like cell phones, within short distances – for example, inside a brick-and-mortar store. If a customer with a Bluetooth-enabled device has opted in to receive alerts and notifications through an app, the smart beacon sends a personalized message to that device. Pharmacies are using BLE technology to let customers know when their prescriptions are ready for pick-up, or when they're next in line to be seen at the urgent care clinic. Other retailers are using smart beacons to notify their guests of deals that are especially relevant to their buying history or physical location in the store.
Of course, retailers are already exploring the next generation of smart marketing technologies, which include facial recognition software. A form of this technology has been in development for decades with the goal of tracking and catching shoplifters. But the "physical cookie" (an in-store version of the online tracking device) may be rolling out in stores in the not-too-distant future.
While other types of marketing technology like digital signage might sound fairly straightforward and simplistic, some retailers are thinking outside the box to better serve – and surprise – their customers at every corner with new product arrivals, discount opportunities, and suggestions for seasonal gifts.
End-User Technologies
Kiosks, coupon counters, and next-generation, point-of-sale devices
Many retailers are employing new end-user technologies with one goal in mind: To provide that smooth, enjoyable experience that every consumer wants. Next-generation, point-of-sale devices and kiosks are being utilized to speed up order and checkout processes, while giving the customer ultimate control of their in-store experience. Tablets and other mobile devices also give store employees the option to provide a new, improved level of customer experience – for example, helping customers order the item they need in a size that's sold out in stores.
What's next in end-user technology? Wearables - electronic devices worn by the user that are designed to send and receive data - are one form of technology that is taking the retail industry by storm. As FIS Payments Leader puts it, "Envision an environment where a customer can walk into a store, pick up what they want and simply walk out, without the need for checking out. This may result in a future hands-free shopping experience in which the entire journey – from browse to buy – is completed through a wearable device3." Brands are also beginning to utilize wearables for store employees, enabling faster, more effective customer service than through traditional methods.
Network Infrastructure Solutions
Wi-Fi and data protection services
A strong, secure network infrastructure is essential as the underlying technology that connects users and devices with services, like the ever-essential Wi-Fi. Every new type of hardware or software that a brand chooses to introduce, whether it's marketing technology or customer-facing technology, affects the network. Conversely, how reliably a particular technology operates is dependent on how well it's integrated into, and supported by, the network.
When rolling out a new technology like smart beacons or self-service kiosks, retailers must think strategically about the infrastructure requirements that are needed to support those types of capabilities. What's more, they must prepare for the ways each of these individual technologies intersect and work together from an end user perspective, as well as on the back end. As these businesses try to keep up with emerging technology trends, it's easy to end up with a mish-mash of different models and devices in the network environment that don't play nicely together. Architecting a secure, seamless, and cost-efficient infrastructure should not be a missing piece of the retail technology puzzle. Instead, brands should look for ways to standardize on equipment wherever possible and work with a technology services provider to create custom compute devices and solutions that can be used across all areas of the business - today and tomorrow.
Creating the Exceptional Customer Experience - From Beginning to End
It's an exciting time to be in retail as more and more technologies emerge – and most store owners and operators are embracing the change. According to Gartner, worldwide retail tech spending will increase 3.6% to $203.6 billion in 20194. But while retail business leaders understand that they must adapt – or die – they haven't figured out exactly how that transformation will happen. The question is knowing where and how to invest valuable time and technology dollars. Businesses must also consider how to connect and integrate disparate technologies to create an infrastructure that will support new digital initiatives well into the future. With the help of a trusted technology partner, many retailers are finding that they are better able to look at systems and processes holistically and develop a strategy for long-term success, and close the deal every time.
Sources:
1 https://www.retaildive.com/news/50-of-consumers-shop-on-mobile-but-only-20-purchase/524462/
2 https://www.accenture.com/us-en/insights/living-business/living-business-research?c=us_us_livingbusinessr_10377476&n=psgs_generic_1018&gclid=Cj0KCQiAkMDiBRDNARIsACKP1FFnANA4g2n90106hXJp26vTdvl-J57SPSXbpY8CsgsSHQocWUrNovYaApqYEALw_wcB#build
3 https://www.paymentsleader.com/revolutionizing-retail-with-wearables/
4 https://www.emarketer.com/content/five-charts-the-state-of-retail-tech
---
About WEI
WEI is an innovative, full service, customer-centric IT solutions provider.
Why WEI? We go further.
At WEI, we're passionate about solving your technology problems and helping you drive your desired business outcomes. We believe in challenging the status quo and thinking differently. There are a lot of companies that can take today's technology and create a great IT solution for you. But we do more. We go further. And we have the customer, vendor and industry awards to prove it. WEI is a premier technology partner, who always puts our customers first while providing the most innovative solutions for over 25 years.