66% of organizations surveyed are either utilizing a hyperconverged infrastructure, or have active plans in place to move to one.1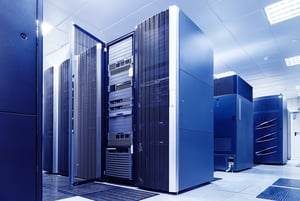 The emergence of apps and the consumerization of IT is driving organizations to become more agile than ever before. Consolidating hardware and software while collecting data on application usage have become primary drivers of new business models for enterprises that are striving to constantly stay ahead of their competitors.
A good example of this rise of IT consumerization is the recently announced acquisition deal of Whole Foods Markets by the giant tech company Amazon for $13.7 billion. Amazon utilizes web-scale technology to accelerate its growth, with its latest targets being the supermarket and food industries. Without the benefits of web-scale technology, this explosive growth would not be possible. Amazon's ability to be technologically agile and to "crunch data" has allowed them to beat other markets, even overtake them. Those who don't have the technology in place to cater directly to the customer or consumer will fall behind in the competitive landscape.
Web-scale and hyperconvergence are not the same thing, however, although the terms are sometimes used interchangeably. The giants such as Amazon, Facebook, and Google build their own hardware and software, customized to scale out very large deployments of only a few applications. Hyperconvergence, on the other hand, decouples the hardware and software and provides the infrastructure for you to use or customize as needed. Despite the differences, web-scale and hyperconvergence do have the same end-goal—respond quickly to the changing demands of the customer.
Taking cues from Amazon and others, organizations of every size are realizing the benefits of using the right technology to "up their game." One of the ways businesses are doing that is through deploying a hyperconverged infrastructure. In fact, according to IDG research commissioned by WEI,1 two-thirds of organizations surveyed are either utilizing a hyperconverged infrastructure, or have active plans in place to move to one. And Gartner reports, "hyperconverged integrated systems will represent over 35 percent of total integrated system market revenue by 2019."2
Reasons Businesses are Moving Toward Hyperconvergence:
1. CONSOLIDATE IT RESOURCES
Enterprises are looking to consolidate IT resources for several reasons: simplify IT operations management with a better aligned staff, and OpEx and CapEx savings. Many organizations have already taken advantage of public and private cloud offerings, and virtualization technology, to move applications, storage, and networking out of their data center and into the cloud. Further, they have been realizing the benefits of doing so – both in cost and ease of management. Even so, virtualization has typically been deployed in phases, with one piece or another (networking, applications, storage) going "virtual," while the others remain in existing infrastructure for the time being.
Hyperconverged infrastructure takes this trend a few steps further by allowing organizations to converge everything (networking, storage, computing, and virtualization) into one easy-to-manage system that takes the form of a single appliance, driven by software-defined intelligence.
Reducing the data center footprint and all that this entails —decreased power consumption, reduction in cooling costs, lower cost of ownership, eliminating "vendor lockin," centralized management, and reduction of IT staff —are some of the greatest benefits of moving toward a hyperconverged infrastructure. In addition, the flexibility built into a hyperconverged system allows organizations to be agile, increasing or decreasing their compute, storage, or networking needs as business requirements change and fluctuate.
2. MOVE USERS FROM A STANDARD DESKTOP ENVIRONMENT TO A VIRTUAL DESKTOP ENVIRONMENT
It is estimated that 70% of companies need to access on-demand applications such as Microsoft Office. Streamlining the intensive application resources by moving your users to a
VDI (Virtual Desktop Infrastructure)
can increase productivity while decreasing maintenance and management. VDI (Virtual Desktop Infrastructure), a term coined by VMware, is virtualization for the desktop. Rather than have the application hosted on the client machine, the application is hosted on the server and the client simply accesses it via the host server. From the client's perspective, the application appears to be on their PC, but all of the processing power, storage, and data is hosted on the remote server. This enables IT departments to reintroduce legacy PCs that were slated for the junk yard, or purchase new, less costly PCs that don't have the memory and processing power required with a traditional IT model. While VDI decreases the costs on the end-point machine, costs can become inflated in the data center, where storage and compute power must be handled for multiple users. A second bottleneck with VDI is the fact that the end-point must communicate via the network in order to access the application. If the network connection goes down or is slow, this affects the end-user's productivity and can be frustrating for users and IT departments alike. A hyperconverged infrastructure, however, can eliminate or downplay such problems. In fact, many hyperconverged solutions that bundle storage, network, compute, servers, and virtualization software have been built around just that – helping VDI deployments work more efficiently and with less costs and downside. By its very nature, a hyperconverged infrastructure is built around the agility, speed, and reduced costs of helping application and compute functions of the end-user run as efficiently as possible.
3. BETTER MANAGE REMOTE OFFICES AND BRANCH OFFICES
Many IT departments find it easier to manage the corporate or on-premise network but find managing remote offices and branch offices cumbersome. Moving to a hyperconverged environment makes this problem obsolete.
Since hyperconverged systems employ a central management model, all backups, storage, compute, and quality-of-service policies are managed as if they were local. Further, a backup for example, can be easily moved from one site to another (headquarters to a remote site) or to the cloud for storage, instantaneously. This eliminates the need for extra staffing and hours managing remote sites and branch offices.
4. BETTER UTILIZE CLOUD COMPUTING IN THE ORGANIZATION
You may have already seen the benefits of moving some applications into the cloud, or you may have decided to evaluate the benefits of moving some or all of your infrastructure into a public, private, or hybrid cloud environment. If this is the direction your organization is moving, a hyperconverged infrastructure solution may benefit you in several different ways.
Hyperconverged solutions have a built-in layer, or API, that allows various use-cases of cloud technology to appear as simple extensions of the system as a whole. In other words, no new configuration or technology is needed to "make it all work" and certainly no rip and replace of hardware or other systems. Most (if not all) hyperconverged infrastructure vendors "build in" access to large cloud providers (such as AWS, Azure and others) that provide simple management of cloud resources from the hyperconverged system.
IS A HYPERCONVERGED INFRASTRUCTURE RIGHT FOR YOUR ORGANIZATION?
The race-to-value in an ultra-competitive environment has been a driving force in the trend toward a hyperconverged infrastructure. Taking cues from the giants (Amazon, Facebook, Google), over 2/3 of organizations are embracing hyperconvergence as a means to become more nimble and agile as an organization.
The ease of use and benefits of deploying a single system for everything – network, compute, server, virtualization, and storage – has allowed organizations to realize immediate benefits in both cost reduction and maintenance, and "nimbleness" to compete in a highly competitive landscape.
Evaluating whether or not a hyperconverged infrastructure is right for your company depends upon the business goals, needs, and future roadmap of your organization – and WEI can help.
Sources:
1. IDG Reasearch commissioned by WEI, April 4, 2017.
2. Gartner Magic Quadrant for Integrated Systems report, Nov. 9, 2016 https://www.gartner.com/doc/reprints?id=1-3E3UTVI&ct=160804&st=sb
---
About WEI
WEI is an innovative, full service, customer-centric IT solutions provider.
Why WEI? We go further.
At WEI, we're passionate about solving your technology problems and helping you drive your desired business outcomes. We believe in challenging the status quo and thinking differently. There are a lot of companies that can take today's technology and create a great IT solution for you. But we do more. We go further. And we have the customer, vendor and industry awards to prove it. WEI is a premier technology partner, who always puts our customers first while providing the most innovative solutions for over 30 years.